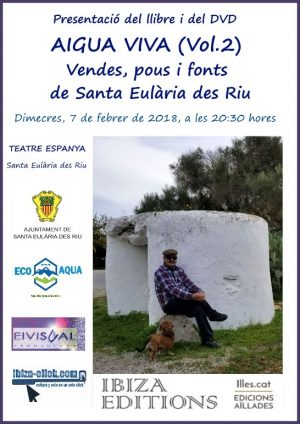 SE LAUNCHES WATER VIVA (Vol.2)
On Wednesday, 7 February 2018 to 20.30 hours is presented in the Teatro Spain (Santa Eulalia) el libro y el documental audiovisual Living water (Vol.2). sales, pous i fonts de Santa Eulària des Riu (Isolated editions, 2018). Se trata de la segunda parte de un proyecto creado por Josep Joan i Marí, "Pep Xomeu" i por Ramon Mayol. After exploring the wells and fountains of Sant Carles de Peralta, se adentran ahora en las sales Santa Eulalia.
Pep Xomeu has written a poem by each of the wells and fountains and has musicado with a melody that Elena Prokhorovaaccompanies the piano. Las fotografías del libro son de Ramon Mayol y el prólogo de Lluís Ferrer Ferrer, which will also be the presentation of the Teatro Spain, in an act framed in the program of celebrations of the Villa River. The choral group Les veus de Peralta will perform some of the songs that Pep Xomeu has composed for the occasion.
Mayol también dirige audiovisual, from 50 minute, del cual se proyectará un teaser el día de la presentación, donde se recogen las imágenes de las sales from to Villa, with the Well Low, Well the Old Moon and Source den; la sale from Cala Llonga, which it has the Font des Ierns, Pou den Tur and Pou Can a Brand (o den Durban); la sale December Trull den Vich, with the Font des Trull den Pou Vich and Can Trull; la sale Novice December, que acoge el Pou den Cardona y la venda d'Arabí, It is containing the Font de Perella and Font den Planetes. El pueblo tiene otras dos sales, la Coloms y la of s'Església, but no wells or prominent sources.
further, in the documentary, producido por Eivisual, opinions are collected, curiosities or valuable anecdotes related neighbors that water heritage, as: Mariano de S'argentera, December Antonio Campaner, Eulalia Can Mayol, Carmen den Serra, Carlos Costa, James den Black, Peter s'Argentera, Vicente Ramon Noguera, Toni Marí "Marge Joan Clapés" Martin ".
Ibiza Editions
Illes.cat
LITERARY PLATFORM ON LINE
Please follow and like us

: